---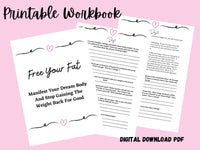 Printable Weight Loss Journal, Law Of Attraction Workbook, Weight Loss Printable Guided Journal With Prompts, Law Of Attraction Journal
Cassie Smallwood
Printable Weight Loss Journal, Law Of Attraction Workbook, Weight Loss Printable Guided Journal With Prompts, Law Of Attraction Journal
If you've been trying diet after diet only to gain the weight back and then some and feeling like a failure because you just can't stay motivated to lose weight, keep scrolling…
Can we get real for a second here my frustrated friend?
If I could hear your thoughts would I find you saying things like:
I'm too fat
It's hard to lose weight
Diets just don't work for me
Being overweight runs in my family so I'm stuck with these fat genes
It's not like you want to be overweight. You've tried every diet you can think of and exercised until your legs hurt so bad you could barely sit down.
Heck, if you could have a dollar for every diet you've tried, you'd be a millionaire. But I'm here to tell you it's not your fault.
You see cookie cutter diets don't take into account that each one of us is different with different thoughts, feelings, cravings, foods we love and foods we hate.
You need to get to the real root of your weight problems and follow a diet that you actually enjoy what you eat.
Which is why you need a system that helps you understand why you turn to food when you're emotional and how to fix it, that's created by someone who gets what you're going through and has been there herself.
The Free Your Fat Workbook is a printable workbook with 21 days of activities and journaling to understand and overcome your weight struggles and manifest your dream body even if you feel completely hopeless because you've tried everything.
AFTER COMPLETING THE WORKBOOK YOU'LL KNOW:
Why you keep failing at diets
How to create your own diet that you actually love
How to have more confidence in yourself
How to let go of things that aren't serving you
How to deal with food cravings
How to squash your negative self-talk
Why you keep gaining the weight back and how to stop it
How to love your body BEFORE you reach your goal weight
How to stop criticizing yourself
How to live more joyfully
Imagine finally getting out of your own way and feeling beautiful and happy.
THIS IS A PRINTABLE DIGITAL DOWNLOAD. NO PHYSICAL PRODUCT WILL BE SHIPPED.
Here's what you get:
High resolution PDF file with 21 Days of journal prompts and activities to start manifesting your dream body immediately File will print on 8.5" x 11" paper For personal use only. 
❤️ DUE TO THE DIGITAL NATURE OF THIS PRODUCT NO RETURNS WILL BE ACCEPTED AND NO REFUNDS WILL BE GIVEN.
After you've completed your purchase, you will be sent an email with a link to access your printable product.
Click the link from the email and it will take you to a page with a Download Now button.
Choose the location you want to save your file to.  If you don't choose a location, most computers will automatically save to your Downloads folder.
Once it's saved, you can open it and use it!
All products are digital downloads.  No physical products will be sent.
These printables may not be altered, edited, changed, or reproduced and are protected by copyright.
Please note that many mobile devices do not allow for downloading through a link.  If you have problems downloading on a mobile device, try a desktop or laptop computer.
All files are sent as PDF files.  Most computers come with Adobe Reader pre-installed.  If your computer doesn't have a PDF reader, you can download a copy for free here.