---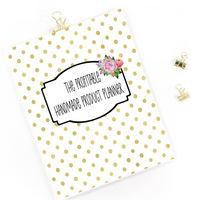 The Profitable Handmade Product Planner (35 Pages of Product Brainstorming Ideas)
Cassie Smallwood
Have you been trying to think of products to add to your handmade shop, but you just can't seem to come up with any good ideas?
No matter what products you sell, you need to have fresh new ideas to keep your customers interested and buying.
Once you start brainstorming, it becomes a piece of cake to kick your mind into creative mode and come up with endless ideas.
The Profitable Handmade Product Planner will walk you through 50+ holidays, special occasions, seasons, and more to get your creative juices flowing so you can make sales all year round.
Here's what The Profitable Handmade Product Planner covers:
HOW TO FIND YOUR OWN UNIQUE CRAFT TO SELL IN YOUR SHOP
If you're just starting your shop and don't have a product to sell yet, this will help you work through what to sell that you'll enjoy and bring in the cash.
FINDING A THEME FOR YOUR HANDMADE SHOP
Having products that make sense together is super important.  You want a brand that goes together and radiates class.
BRAINSTORMING PRODUCTS FOR DIFFERENT PRICE RANGES, HOLIDAYS, SPECIAL OCCASIONS, SEASONS AND MORE!
After you work through this planner, you'll have lists of products in over 50 categories so you never run out of ideas for money making products.
Digital Download.  No physical products will be sent.
❤️ DUE TO THE DIGITAL NATURE OF THIS PRODUCT NO RETURNS WILL BE ACCEPTED AND NO REFUNDS WILL BE GIVEN.
After you've completed your purchase, you will be sent an email with a link to access your printable product.
Click the link from the email and it will take you to a page with a Download Now button.
Choose the location you want to save your file to.  If you don't choose a location, most computers will automatically save to your Downloads folder.
Once it's saved, you can open it and use it!
All products are digital downloads.  No physical products will be sent.
These printables may not be altered, edited, changed, or reproduced and are protected by copyright.
Please note that many mobile devices do not allow for downloading through a link.  If you have problems downloading on a mobile device, try a desktop or laptop computer.
All files are sent as PDF files.  Most computers come with Adobe Reader pre-installed.  If your computer doesn't have a PDF reader, you can download a copy for free here.